In November of this year DSS took part in the largest industrial exhibition in France MIDEST for the first time. Every year the exhibition takes up 42,000 thousand of buyers among the producers and consumers of steel products from around the world. This year Mideste exhibited more than 1,600 companies from 39 countries, including our factory.
About the event in general.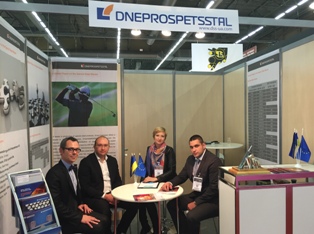 MIDEST - an annual exhibition dedicated to industrial subcontracting, which is the largest and the most important European event in the field for all of the specialized enterprises. It is held since 1971, the event organizer is Reed Expositions France. The venue is a popular exhibition center in Paris - Paris-Nord Villepinte Parc d`Expositions et Centre de Conventions.
Exhibition MIDEST - it is a professional specialized event in the field of industrial subcontracting. It is intended for manufacturers, suppliers, companies and enterprises, integrators can meet and establish business contacts on a common business platform. The exhibition includes all major industrial subcontracting except in woodworking and textile industries. MIDEST is supported by many professional associations in France, including GIST - interdisciplinary teams and subcontract orders for development and manufacture of mechanical components.
Sad nuance
Since the exhibition was held immediately after the tragic events in Paris, special attention of the organizers of the exhibition was paid to the measures of control and security of visitors.
About our debut
Participation in the exhibition allowed us to negotiate with existing customers among the major stockist and discuss our cooperation in 2016. Stand of Dniprospetsstal had a success with our potential customers: forging plants and enterprises specializing in metal processing. Also, our participation at MIDEST was of great image-building importance for our company.