From 11 to 14 of November Moscow hosted an international industrial exhibition "Metal-Expo 2014". Perhaps this is the largest exhibition of metallurgical and engineering products in the CIS.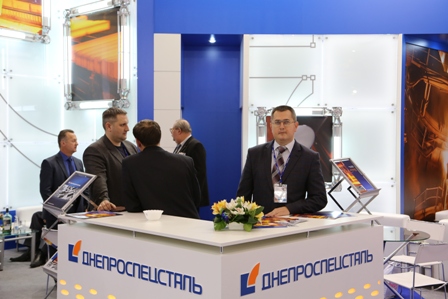 In 2014, a large-scale exhibition and congress forum brought together leading steel companies, pipe and wire factories, enterprises for processing of non-ferrous metals, manufacturers of rolled aluminum and alloys, builders, machine builders, oil and gas industry workers, representatives of other industries. Total - 650 companies from 35 countries and more than 30 thousand consumers of various metal products have visited an exhibition. All the variety of ferrous and non-ferrous metallurgy, modern equipment and technologies were presented in "Metal-Expo 2014".
Authoritative exhibition was attended by representatives of European companies SMS Group, Danieli, GMH-Holding, ThyssenKrupp Mannex, Olimpia80, Voestalpine, ArcelorMittal.
Participants have prepared seriously for the forum. Leading metallurgical groups were represented by large delegations. More than 4 thousand specialists and managers of participating companies worked at the event.
A major delegation of DSS was represented by Deputy Chairman of the Board - Sales Director Alexander Shabanov, Deputy Chairman of the Board - Production Director Sergei Kalashnikov, Deputy Commercial Director for procurement Sergey Kovalevsky, head of sales management Vladislav Kisenko, Sales Manager Oleg Bogoslav, sales Manager Ivan Petrenko, as well as employees of Moscow "Trade House of DSS".
For majority of steel companies refusal from participation in the exhibition for one reason or another is a serious blow to the image and relations with partners. Therefore, despite the situation in the east of the country, and strained political relations with Russia, for Dniprospetsstal and even a number of Ukrainian enterprises, it was necessary to take part in the "Metal-Expo". For DSS the product presentation at this exhibition is not the first, but rather traditional.
According to Alexander Shabanov, the situation in the east of the country did not affect the relationship between the plant and its Russian partners. And at the industrial exhibition was no room for politics. Although, as noted by Alexander, a program of import substitution at northern neighbors is evident - state structures, which use our steel in the manufacture could not confirm entirety its orders for the next year.
Participants and visitors were very interested in the products of our company and are ready to continue cooperation. But new contracts were not brought from the forum, as it is not for contracts; "Metal-Expo" is an image-building exhibition. It is for communication between colleagues and experience exchanging. But the fruit in the form of contracts, according to past experience, DSS will begin to reap in three or four months.