JSC "Dneprospetsstal" participated in XVIII International specialized exhibition "Engineering. Metallurgy 2010" from the 18th to 21st of May. Exhibitor contractor was Zaporozhye Chamber of Commerce and Industry powered by The Ministry of Industrial Policy of Ukraine.
The list of the participants in 2010 consisted of more than 200 companies from 14 countries (Ukraine, Russia, Belarus, Poland, Germany, USA and others), who presented a number of the newest technologies and workings of the modern industry. Big industrial companies participated in the exhibition together with DSS. Among them were Zaporozhstal, Minsk bearing plant, Artemovsk engineering plant. There was a raw of accompanying events alongside with the exhibition – seminars, round tables, presentations.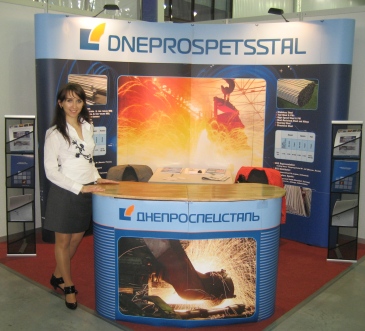 - Participants' level and event's status shows that such sectors of Ukrainian economics as metallurgy and engineering begin to overcome the crisis, - Pavel Matvienko Head of Zaporozhye regional council said.
Dneprospetsstal's annual participation in the biggest regional specialized exhibition became a tradition of an image character. The Company is well known among the consumers of metal products in Ukraine and CIS. A great interest was given to DSS as to the potential client from the side of the manufacturers and suppliers of the industrial equipment and raw materials.
During 4 days of the exhibition the personnel of Sales Department and Corporative Social Responsibility Department were working at Company's stand. Representatives of the technical departments and laboratories participated in the conferences and seminars. As Alexandr Tumko and Viktor Milchev said – the exhibition is useful as there is a possibility to obtain the news about the modern technologies, metallurgical researches straight from the source, to see and to touch, to evaluate the technical parameters and peculiarities of the equipment suggested, to learn the producer's price, to establish contacts for future cooperation.