VII Specialized Exhibition "Energy 2010" took place in the Kozak Palace exhibition center from the 10th to 12th of November. About a hundred of companies from different region of Ukraine participated in it. Companies represented their achievements in energy-efficient technology, alternative fuel and energy types, environment protecting programmes.
I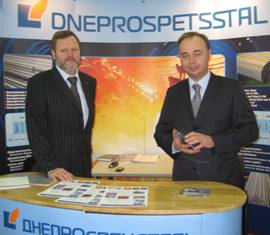 V International Investment Forum took place within the Exhibition frameworks. Over 300 representatives of state and municipal government, investment companies and funds, audit and consulting companies, Ukrainian and foreign industrial companies participated in the event.
Our Company participated in this exhibition for the first time. Company's top-managers demonstrated Dneprospetsstal's exhibition stand; the project for gas-cleaning unit mounting in steel melting shop 3 was presented there.
– Not only citizens of Zaporozhye shall know about Dneprospetsstal's projects but the representatives of state government, investment and audit companies, great Ukrainian and foreign industrial companies as well, – Vitaliy Kornievsky the Chairman of the Board said. – Forum's strategic aim is – to form an efficient area for the business communication and discussing questions concerning investments attracting to Zaporozhye region.
Such big companies as Zaporozhstal, Zaporozhye Ferroalloy Plant, Zaporozhtransformator, ZAZ and energetic companies of our region presented their stands at the Exhibition.