From the 12th to 15th of November the 19th International Industrial Trade Show "Metal-Expo'2013" was held in Moscow. Dneprospetsstal participated in the event.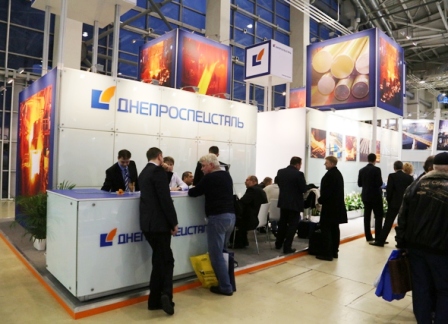 714 companies from 37 countries set their stands, expositions and boards in All-Russian Exhibition Center. Over 30 thousand of consumers of iron and non-iron metals from construction industry, engineering industry, fuel and energy sector, transport and logistics companies, metal traders visited the Trade Show this year.
The whole variety of iron and non-iron metal products, modern equipment and technologies was presented at "Metal-Expo'2013".
For 19 years of "Metal-Expo" existence the exhibition became the main place for metallurgical and metal consuming companies meeting. Except our Company such companies as Severstal, Euras Group, MMK, Metalloinvest, Mechel, Metinvest Holding, UGMK Holding, Interpipe, Centravis, ArcelorMittal, Ruukki, Danieli, VALLOUREC & MANNESMANN TUBES and a lot of others participated in this great event. This year foreign companies set their expositions on over than 200 stands.
In 2013 the entry list of international industrial exhibitions complex dedicated to metal products for construction industry, engineering, fuel-and-energy sector, metallurgical equipment, and transport and logistics services for mining and smelting enterprise enlarged a lot. About 4 000 of qualified specialists and managers of participants companies worked at stands. According to the data obtained by independent audit – 53% of "Metal-Expo" visitors are the top-managers, persons who make decisions. It is one of a few exhibition events which are attended by the companies' chief executives.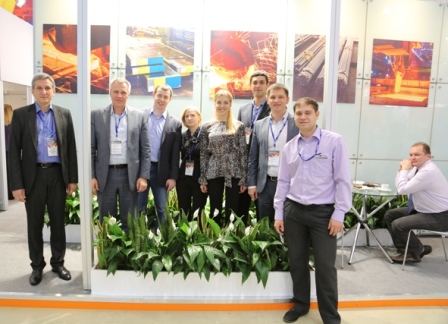 Dneprospetsstal's top-managers – Chairman of the Board Vitaliy Kornievsky, Deputy Chairman of the Board – Director for Production Sergey Kalashnik, Deputy Sales Director – Head of Sale Department Alexander Shabanov, Deputy Sales Director for Logistical Support Sergey Kovalevsky, Head of Technical Department Boris Levin, Head of Sale Department Vladislav Kisenko and others attended the Trade Show.
In recent years "Metal-Expo" became one of the main platforms where the representatives of the metallurgical sector are able to generate the consolidated position. Over 50 of business events took place on the base of the Show in whole. As Dneprospetsstal's top-managers says – "Metal-Expo" is a traditional and acknowledged platform for communication of the representatives of iron and non-iron metallurgy, engineering, metal processing, and related industries focused on the metallurgical services. Participation in the Trade Show allows establishing business connections, receiving the information as for the market and new technologies, learning the competitors' business activities, presenting a new product and developing a pricing policy.
We are appreciated a lot
Annually during "Metal-Expo" Trade Show industrial corporative communications conference is led. This year was not an exception. During the event the results of a great contest "The best corporative mass media organization in Russia and CIS metallurgical sector" are summed up.
This year the nomination "The best periodical of CIS metallurgical companies" was given to Dneprospetsstal's newspaper "Electrometallurg". "EM" became the best corporative periodical among the 40 titles of 12 CIS countries.
This worthy award proves the fact that nothing is impossible. The main thing is hardworking and believing that all will be okay. It does not concern only contests but life in whole. If you want to be the best – study it!